---
2,000 urban residents 'Touch a Truck' with help from WCO members

Posted On: July 28, 2022
By Maria Woldt for WCO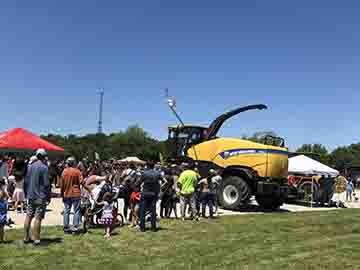 As a dairy farmer and agriculture professional, cows, crops, manure, trucks, and tractors are part of my every day life. Having grown up in the city, I don't take for granted how lucky I am to have this life and for the opportunity to share it with my girls.
People are often surprised to hear that I didn't grow up on a farm. They are even more surprised to hear the story of how I got involved with agriculture. Spending time at the Minnesota State Fair in the animal barns and agriculture buildings sparked something inside me, and I knew that agriculture was my career path.
Back in March, WCO received a message from the City of Greenfield asking if we would participate in their new "Touch a Truck" event planned for June 18. Since I've already told you I'm from Minnesota, you won't be surprised that I had to google Greenfield. It's essentially Milwaukee.
Public engagement is so important and when possible, WCO loves to support community events, especially when there is a connection to equipment and transportation safety. I told the event organizer I'd do my best to find a member willing to bring some farm machinery to the event.
Touch a Truck is a free, family-friendly event where the young and young at heart have a chance to touch, sit in, and learn about large trucks and heavy-duty machinery they see throughout their community. Kids had the chance to sit in the driver's seat, take photos, and learn about how each vehicle works.
June in Wisconsin, transporting farm equipment to Milwaukee, diesel prices…I soon realized I might have bitten off more than I could chew. Looking at the map of WCO members in southeast Wisconsin, I knew that my best chance of making this happen was to call Bryce O'Leary from O'Leary Brothers Chopping Service in Janesville.
Bryce is WCO's immediate past president, and a committed volunteer having served on his town board, as a poll worker, election examiner and numerous other community posts.
I didn't even have to twist his arm. Bryce said that if he could find someone to haul his forage harvester to the event, he would participate. "It's for the kids!" Bryce said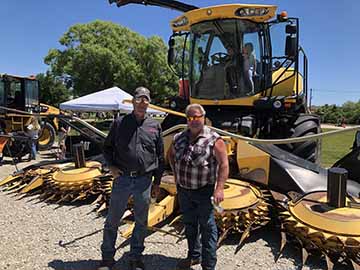 on several occasions.
If anything, Bryce had to do the arm twisting! After some negotiations, Bryce's long-time friend Steve Haberman from Haberman Trucking in Janesville agreed to transport the forage harvester and corn head to Greenfield for the event.
The stars aligned for Touch a Truck – June 18 fell neatly between hay crops, other planting or spraying were already done, and the weather was perfect. I didn't know what to expect in terms of crowd size, but it was packed! In all, more than 2,000 people came out to support the event and Bryce's chopper had a line all day to sit in the cab.
No doubt, Bryce and Steve had other priorities that day, but they said 'yes' to this opportunity to engage with the public.
Fairs and other community events are a great way to share what you do with people who wouldn't otherwise have a chance to talk to a farmer or see the equipment you use.
In addition to helping kids and their parents better understand agriculture, you might also spark a career interest in someone. I'm living proof of that.
As an industry, we need to think of creative ways to find people who love big machines and wide-open spaces. That young girl or boy from Milwaukee with no farm experience could be your next crew member.
More photos from the event are on the WCO Facebook page.
---